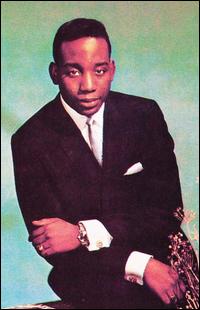 Jerry Butler was born today (December 8th) in Sunflower, Mississippi.
He moved to Chicago at the age of 3 and has called the city home ever since.
Butler attended Washburne Trade, which later became "Cooley High." He dropped out of school at the age of 14 to work and support his family after his father died.  Butler was 17 when he joined The Roosters, a name that would be dropped for the classy name "The Impressions."
They honed their skills in Seward Park and the infamous Cabrini-Green projects, before hitting Chicago's "other" famous street, South Michigan Ave., which housed record labels and distributors.
The group auditioned for Vee Jay's Calvin Carter, was signed on the spot and recording their signature balled "For Your Precious Love," which they recorded the Wednesday after signing.
The record sold 900,000 copies upon it's first issue in 1958.
Butler left the group after two follow ups failed miserably.
"It wasn't so much Jerry because we were all quite close having worked together. And of course I've known Jerry for years," Curtis Mayfield said of the split. "What really began to create the tension was that Vee Jay chose to put on the record 'Jerry Butler and The Impressions.' And you can understand all these fellows having worked and sacrificed evenly in trying to become somebody, for anyones name to be put put front was sort of a blow to the rest of the gents."
Butler's first solo records were released on the Vee Jay subsidiary, Abner Records, owned by Ewart Abner.
He switched to the Vee Jay imprint in 1960 and hit #1 with a Mayfield penned tune, "He Will Break Your Heart."
From 1960-64, Butler failed to make any significant noise, despite a few minor hits. Finally in 1964, Butler found his way to the charts with Betty Everett on "Let It Be Me"
Butler left Vee Jay for Mercury in 1966 after the pioneering label went bankrupt.
On Mercury Butler had the most successuful part of his career. In addition to working with a young Gamble & Huff, Butler formed his own companies, The Jerry Butler Songwriters Workshop and Fountain Productions.
Butler released classics like "Hey Mr. Dream Merchant," "Only The Strong Survive," "Never Give You Up."
Fountain released classic sides on The Unifics, the Knight Brother, Jackie Ross and Butler himself.
Butler signed with Motown in 1975 but by the 80's, he was out of the music business and concentrating on a career in politics.
Today, Butler is a City Commissioner in Cook County (Chicago).
He can still be seen on the oldies circuit signing "For Your Precious Love."